This post was originally posted on Babelhut.
Update: The deadline for entering the drawing has been extended, see details at the bottom of this post.
A couple of months ago I received a copy of 601 Spanish Verbs for me to review. I incorporated this book into my Spanish studies to see how well it fared. Read on to find out what I think of it and how you can win a free copy for yourself!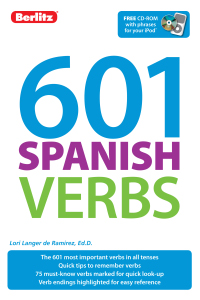 The Verb Guide
The Verb Guide section at the beginning of this book is pure gold. I've had trouble with the more advanced tenses in Spanish until I read this section. The descriptions of each tense are the clearest and most easily understood of any Spanish book that I've come across. I know some of you have heard "Screw Grammar!" from my friend Ramses, and to some extent I agree, but I think you still need to know when and how to use your verb tenses. You don't need to memorize the rules but you do need read about them, and more importantly study sentences in your SRS that demonstrate these rules. This book has enough example sentences for each of the verb tenses that you will learn how to use them well.
This book also does an excellent job of explaining many of the exceptions that you must deal with in Spanish, and identifies the patterns you will see with irregular verbs, as well as the cases where there is no pattern, like that fui/fuiste/fue/fuimos/fueron can be either ser or ir, which I did not know before. I can honestly say that my Spanish has improved a lot just because of this section of the book.
The 601 Verbs
The bulk of this book is the reference section for the 601 verbs. This section is neatly laid out, with one verb per page. The verb's infinitive form and meaning in English are at the top of the page with all the possible conjugations laid out in charts neatly over the rest of the page.  The charts are very easy to read, with the suffix changes for each conjugation in bold. Some verbs in this section are highlighted as "must know verbs." These pages have a light blue background instead of white, so that there are easy to see as you flip through the book. As a reference section it's very well done, there's only thing I think it lacks. In other verb books I've seen there are a few example sentences for each verb demonstrating the use of that verb in a several different tenses. Unfortunately this book does not have that.
Other sections
The book has a few more smaller sections in the back. The first is an activity section which is basically just a little test of how well you can use verbs in a sentence. Some of the questions are multiple choice and some are fill-in-the-blank. I haven't tried quizzing myself with it just yet, but I intend to because this is another good source of sentences that show how the verbs are used.
The next section is a list of 75 "must know verbs," which are the same 75 verbs highlighted in the main reference section. Following that are a list of tech verbs. The list is pretty short, and if you've already setup your computer for Spanish, you've probably seen most of these already. Following this is a section on text message abbreviations in Spanish. This is an interesting section, and maybe useful to those of you who text message with Spanish speakers. I can't verify its utility though, as the only Spanish speaker that I send text messages to doesn't know any of these abbreviations, although to be fair, we are in Texas and not in a Spanish-speaking country.
The next little section is a test preparation guide which are useful tips for students in academic settings, and they're applicable for tests in subjects other than Spanish as well. Following this is the answer key to the earlier activity section. After that is the last section, which lists over 2500 more verbs. This section is actually great because if you could not find your verb in the main reference section, you can find it here with a short English definition and a page number which refers to a verb in the main reference section that conjugates in the exact same way. They really could have named this book 3101+ Verbs because that's really what you get with this section.
The CD-ROM
Like many educational books, this book included a CD-ROM. Don't waste your time with it. It contains an e-book for the iPod of useful phrases in Spanish. It only works with the iPod, and not any other music device. I don't own an iPod so I borrowed one from a friend to review the CD-ROM. The installer program on the CD is very clunky and requires you to changes all sorts settings in iTunes that you may not want to change. Once installed on your iPod, the e-book is located under "Extras -> Notes." The whole experience feels very kludgy and you're really better off with a real travel guide if that's what you're after. There are actual mp3 files on the CD if you want to listen to Spanish pronunciation of the phrases in the e-book.
The Verdict
Because I find that numeric ratings are pretty useless, I like to give a score of either buy, borrow, or avoid. I rate this book as buy for any student of the Spanish language.
The Pros:
Description of verb tenses are clearest and easiest to understand of any Spanish book I've read
Covers typical verb stem-change patterns well
Good example sentences demonstrating the various tenses
The reference section is laid-out well
Low price: the cover price is only $15.99
You really get over 3101 verbs
The Cons:
In the verb reference section there are no sentences for each of the verbs
The CD-ROM is not very useful
Giveaway: Win a free copy of 601 Spanish Verbs
I have an extra copy of 601 Spanish Verbs that I will give to a randomly selected entrant. There are two ways to enter the drawing. The first way to enter is to leave a comment on this post. The second way is to send a tweet via Twitter that contains both the text "#babelhut.com" and a link to this article (it's okay to use a url-shortener like tinyurl.com or bit.ly). The drawing is open to everyone. You may enter exactly twice, once in the comments on this post, and once on twitter.
The winner will be selected on Monday, June 22 June 29 and notified either by email or by a direct message on Twitter. Good luck!
Update: The deadline has been pushed by a week to give people more time to enter the drawing.